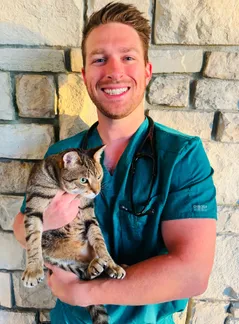 Dr. Dave Rogers is a native Michigander, growing up just outside Detroit.
He attended Michigan State University for his undergraduate degree before going to Kansas State University to earn his veterinary degree in 2020.

He spent the first 2 years of his career practicing small animal medicine in Plymouth, MI before moving to the Kalamazoo area. He likes all aspects of companion animal medicine with special interests in surgery, dentistry,
and diagnostic imaging.

Dr. Dave is married to his wife Nicole, and has 2 cats, Hazel and Cora. He
enjoys spending most of his off-time outside doing everything Michigan has
to offer - golfing, hiking, fishing, skiing, etc.