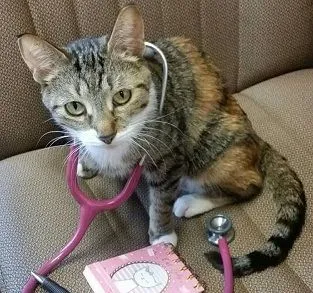 Our appointment book is computerized, which allows us to efficiently make appointments for you and your pet. Our team will attempt to accommodate all requests to the best of our ability. To maximize efficiency and minimize wait times, all our services are by appointment only. We see dogs and cats of all ages, sizes, and breeds.
We're pleased to offer the following services at Kalamazoo Animal Hospital:
Wellness & Preventive Medicine: We believe that wellness care is the foundation for good health. Routine visits to the veterinarian can catch problems early and allow us to intervene much sooner.

Puppy & Kitten Care: Getting puppies and kittens started with good medical care right away ensures a healthy, happy pet for many years to come.

Vaccinations: Vaccines prevent many diseases such as rabies, parvovirus, distemper, and more. Vaccine recommendations vary greatly based on a pet's lifestyle and unique factors. We will work with you to develop a vaccination plan that keeps your individual pet safe and protected.

Parasite Prevention & Control: Both internal parasites like heartworms, roundworms, and hookworms and external parasites like fleas and ticks are of significant concern in Michigan. We have several products available to treat and prevent parasites of all types.
Senior Pet Care: We know that older pets need special care. We can help keep your senior pet comfortable and enjoying life for as long as possible.
Dental Care & Dentistry Services: Just like people, pets need routine dental care to stay healthy. We perform professional dental cleanings under anesthesia, complete with full mouth digital x-rays. If problems are found during a dental procedure, we offer advanced services such as extractions and bonded dental sealants.
Radiology (X-ray): Sometimes, even the best physical exam can't tell what's going on inside your pet. For those times, we have a digital radiograph system to take x-rays and sneak a peek inside. We also have basic ultrasound capabilities.
Surgery: We perform surgeries such as spays, neuters, lump and mass removals, and many other procedures. We have a surgical laser available for select procedures. For advanced procedures such as orthopedic repairs and complicated thoracic and abdominal procedures, we have a strong relationship with a referral facility that offers a boarded veterinary surgeon.
Nutrition Consultation: Choosing the right food for your pet is hard! We get it - there are so many choices and so many things to consider. Add in a medical problem and picking the right pet food can get even harder. Our doctors and staff are here to help. Whether your pet needs to lose or gain weight, has a specific medical problem that requires dietary changes, or you just need some help choosing a food for your healthy dog or cat, we are available to help you sort through the options and make the best choice.
Laser Therapy: Laser therapy uses deep-penetrating light to promote a chain of chemical reactions known as photobiostimulation. This process helps relieve pain through the release of endorphins and stimulate injured cells to heal at a faster rate.
End of Life & Hospice Care: Having a pet at the end of his or her life can be a very difficult time. We're here to offer supportive and palliative medicine to promote good quality of life. When it's time to say goodbye, we offer euthanasia and cremation services.
Behavioral Medicine: Behavior problems such as inappropriate urination, barking, aggression, and more can be frustrating and embarrassing. We will work with you to come up with solutions based on behavior modification techniques, training, and, when needed, medication.
Emergency & Urgent Care: In an emergency, we know that seconds count. Whenever possible, we will see emergency patients immediately. If we are unable to do so, we recommend the VCA Veterinary Specialty and Emergency Center of Kalamazoo. They provide compassionate, thorough care on a walk-in basis, just like a human urgent care or emergency room.
We also offer a fully stocked in-hospital pharmacy for all your pets' medication needs. For items that we do not carry in our hospital pharmacy, we offer an Online Pharmacy with fast and free shipping.